Viana do Castelo
Unforgettable…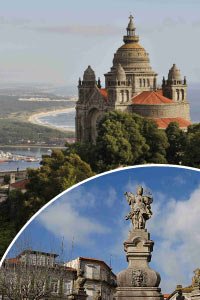 Anybody with a sense of history and a love of Portuguese culture cannot fail to be captivated by the many treasures that Viana do Castelo has to offer. It is a maritime city with a rich past renowned for its variety of splendid buildings, its handicraft traditions and its fame as a ship-building centre. The Praça da Republica in the town centre, overlooking a 16th century fountain and 17th century misericordia church is considered to be the most handsome square in Portugal.
The biggest tourist attraction is the Neo Byzantine church of Santa Luzia which sits on top of the Monte de Santa Luzia 400 metres above sea level with breathtaking panoramic views to the city and coastline and the Eiffel bridge beyond.
During the era of the Portuguese maritime discoveries it was an important departure point for voyages to the New World and trade links were established with Brazil with coffee,gold and diamonds shipped to Viana do Castelo. Many of the town's merchants built grandiose buildings to symbolise their wealth using skilled stonemasons.
The Costume Museum in Viana do Castelo was founded in 1997 with the aim of preserving fine examples and promoting the study of the evolution of the art of embroidery and costume making in the Viana region over the years.
Know more: www.cm-viana-castelo.pt
VALE DO LIMA GIANT – THE DISCOVERER: JOÃO ÁLVARES FAGUNDES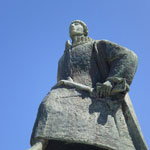 "Vianense", well known as one of the first explorers of Newfoundland, in the Atlantic North. J. A Fagundes , a Royal House noble knight and a Viana do Castelo town councillor, belonged to a family of landowners, with several members as part of the region's ecclesiastical hierarchy. At an unknown date but before 1521, he took part in a voyage to the Atlantic north and received a Royal Allowance from King Manuel, on 13th March 1521, to manage the lands he had discovered "at his own efforts and expenses".: "the land from Castela limits"(...) "until the lands found by Cortes Reais", "the three islands at Aguada Bay", "the islands he called Fagundas" (..) S. João, Santa Ana and Santo António", the islands of S. Pantalão and Onze Mil Virgens archipelago (with Petigoem island) and the Santa Cruz island, and another named Santa Ana, that has been seen and not yet blessed.
The several studies carried out to find out J. A. Fagundes itinerary, based upon cartographic facts and in the relationship between the liturgical calendar and the islands toponymy and the islands groups mentioned on the Royal allowance, indicate that he had probably explored the South coast of Newfoundland and all the are of S. Lourenço Bay. It is agreed that this voyage as granted Portugal exploitation on this important area for the fishing of cod.
It is generally assumed that J A Fagundes, never returned to these lands. However it is possible that with his allowance another expedition had departed from Viana. This is evident in one of his descendants work, "Francisco de Sousa, author of the New Islands Treaty, who wrote in 1570: "45 or 50 years ago several noblemen gathered in Viana and according to the information they had received on the New Land of Codfish, decided to settle part of it, and in fact they did so embarking in a vessel and a ship, and as they had found this land too cold, they travelled to the East-West Coast until they found the Northeast / Southwest coast and there they settled (...) and this is in Cape Britão, at the entrance of the coast, that runs along the North in a famous bay, where we find a large village and it is a land of valuable things". According to some researchers this village was situated at the Fundy Bay and according to others in the Cape Breton Island.
Maria Augusta Lima da Cruz
Viana do Castelo and João Álvares Fagundes (1460 to 1522)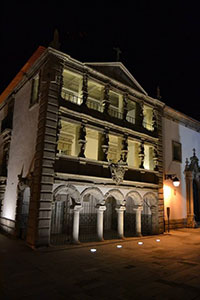 The Portuguese passion for bacalhau (cod fish) may not have been so strong if João Álvares Fagundes hadn't charted the waters around Newfoundland and Labrador in the Canadian Atlantic and gained Portuguese fishing rights to the area. As well as a discoverer, he was also a wealthy merchant and town councilor and it's possible to see the buildings where he worked like the Old Council Chambers and Casa do João Velho, his father-in-law's house with its ground floor trading centre.
The route includes the rather neglected but still stunning São Bento monastery and the wonderfully restored Igreja da Misericórdia next to the 16th century hospital. The 'Old Hospital', built in the 15th century as a shelter for pilgrims, now houses the tourist information centre. Once you've finished admiring old architecture and exploring the centre of Viana, you can visit the fort and look out to sea, imagining how busy the port must have been in its heyday.
It's worth making time to go up the hill to Santa Luzia for the magnificent views of the Lima valley and the coastline from the Temple of the Sacred Heart of Jesus. The ruins of the Iron Age settlement behind it predate Fagundes by several centuries.
GIANTS ROUTE IN VIANA DO CASTELO
PLACES TO VISIT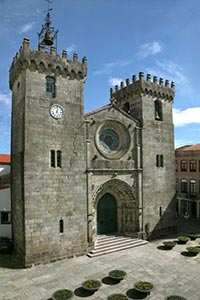 • Centro Histórico (Historical Center):
• Hospital Velho
• Praça da Republica / Antigos passos do Concelho (Deputy mayor of Viana da Foz do Lima)
• Igreja da Misericórdia
• Rua Grande (birthplace)
• Casa de João Velho ou dos Arcos (Old Customhouse)
• Sé de Viana do Castelo (Capela dos Navegantes and family tomb)
• Capela das Almas
• Estátua de João Alvares Fagundes (nearby Coliseu and Navio Gil Eanes)
• Capela de Sta. Catarina da Ribeira (origem da Confraria dos Mareantes)
• Castelo de Santiago da Barra
• Mosteiro de São Bento
• Convento de Santa Ana


NOT TO BE MISSED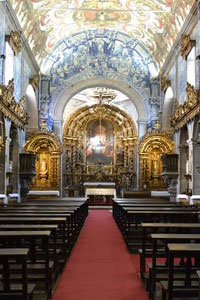 • Gastronomy:
• Bacalhau à Viana
• Sidónios da Brasileira
• Meias Luas do Natário
• Bolas de Berlim
• Vinho Verde Terras de Geraz, Quinta do Abade, Solar de Merufe e Sobrinho do Arcipreste
• Museu do Traje
• Bordados certificados de Viana
• Monte de Santa Luzia
• Funicular a Santa Luzia
• Lugar da Passagem (Geraz do Lima)
• Museu dos Carros de Cavalo (Quinta da Bouça – Geraz do Lima)

"ACTIVE ROUTE"
• Desportos Náuticos, Marítimos e Fluviais
• Praia selvagem do Canto Marinho
• Trilho dos moinhos de vento de Carreço e S. Lourenço
• Passeios a cavalo
For accomodation and Route bookings, please contact:
CENTER – Central Nacional do Turismo no Espaço Rural
Tel: +351 258 931750 ou info@center.pt
www.center.pt I www.solaresdeportugal.pt
www.casasnocampo.net I www.aldeiasdeportugal.pt