Ponte de Lima
Centuries of History…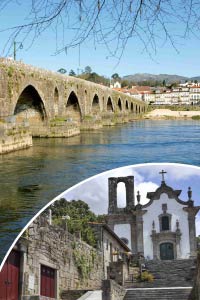 Ponte de Lima, founded in 1125, is Portugal's oldest town and one of its most beautifully preserved municipalities. It takes its name from the Roman bridge which was rebuilt during the reign of D. Pedro I. Legend has it that the crossing of the river struck terror into the hearts of the Roman legion 2000 years ago because the soldiers belived it was Lethe - the River of Forgetfulness - and they threatened to mutiny rather than lose the memories of their loved ones in far off Rome. But seeing their leader safe on the opposite bank they relented and followed him into the mysterious and unknown north.
Ponte de Lima nestles within fertile valleys rich in flora and fauna and a colourful and creative event is the annual International Festival of Gardens between May and October.
Ponte de Lima embraces a number of manor houses and stately homes ("solares") that reflect the rich cultural heritage and traditions of the municipality and some of them have been restored to a high level to provide accommodation in an atmosphere that will bring you closely in touch with the history of the region.
The town exudes hospitality and entertainment with its fortnighly markets and various festivals.
Know more: www.cm-pontedelima.pt
VALE DO LIMA GIANT – THE SAINT: BEATO FRANCISCO PACHECO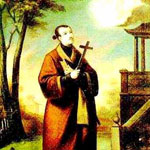 Nobleman, Francisco Borges Pacheco was born in Quinta de Barrô, Correlhã, in Ponte de Lima, in 1566. He was a member of Companhia de Coimbra and was sent to India as a missionary. He had a position as a Provincial and Headmaster in the Macao College and followed than to Japan, where he had a great success in the organization of the local Church as Apostolic Manager of his parish and even in the work of converting the Japanese to the Catholic Faith.
However, the Xogun persecutions to the Catholic Faith sent him to the catacombs and since than lived in clandestinely expecting his pro fide martyrdom. He was burnt in the bonfire, in the city of Nagasaki, on 20th June 1626. Japan became even more isolated.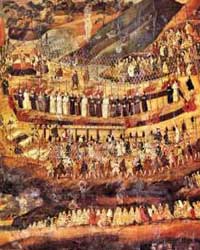 In 1854, when the doors opened again to international relations, two countries had elapsed since the Portuguese were expelled from Japan. Nevertheless, the persecutions to the cultural patterns we had left had not yet finished.
New agreements, treaties and embassies found out the existence of a catholic religion regular practice, though hidden, through sacred songs in archaic Portuguese language, and in the existence of medals with Portuguese motto, distributed two thousand years ago and that had been passed from one generation to the other.
This is our merit! These are the facts we should be proud of! Upon which we should base our judgments of our contribution to a better world and value the price of the seedtime.
These were the achievements of Francisco Borges Pacheco. Beatified by the church in 1867, and whose canonization is still expected.
João Abreu Lima
Ponte de Lima and Francisco Pacheco (1566 to 1626)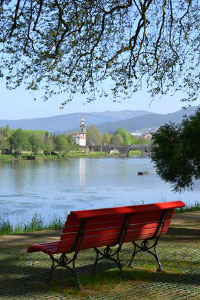 Although he hasn't yet been canonized, Blessed Francisco Pacheco is considered a saint by the congregation of Ponte de Lima, his home town. This Jesuit priest dedicated his life to spreading Christianity in Asia and was burnt alive because of his missionary activities in Japan. He's had a street named after him and you can find his statue in the beautiful medieval parish church in the historical centre which he would have known as a child and young man.
The house where he was born in the nearby village of Correlhã still exists, although it is privately owned. From there, it's a beautiful walk of just over a kilometer along the Way of Saint James into the town of Ponte de Lima.
Ponte de Lima used to be a walled city and vestiges of these defenses remain in the form of the Prison Tower and the arched gateway next to it. You can see an outline of the former wall in the paved Largo de Camões square, plus the space where the former bridge toll tower used to be. The long arched bridge was built in the 14th century to replace the one used since Roman times. Several of the town's current buildings existed in Pacheco's time although many, like the Museu dos Terceiros, have changed since then.
GIANTS ROUTE IN PONTE DE LIMA
PLACES TO VISIT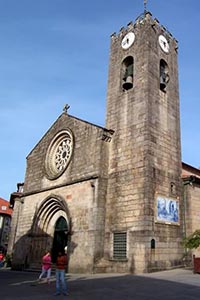 • Casa das Bichas (São Martinho da Gandra)
• Centro Histórico (Historical Center):
• Igreja Matriz (Altar do Beato Francisco Pacheco)
• Igreja da Misericórdia old hospital)
• Rua Beato Francisco Pacheco
• Largo de Camões (interpretation of ancient wall)
• Ponte Romana e Ponte Medieval

NOT TO BE MISSED
• Gastronomy:
• Arroz de Sarrabulho
• Bacalhau de Cebolada
• Pescada Limiana
• Leite-Creme
• Madalenas
• Cardeais
• Chocolates Terra Rica - Pedras do Lima
• Enchidos MinhoFumeiro
• Vinho Verde Vinhão e Loureiro Adega Cooperativa de Ponte de Lima
• Quinta do Ameal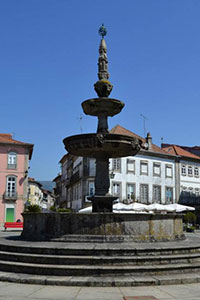 • Casa do Barreiro
• Vinhas do Cruzeiro
• Centro de Artesanato P.L.Arte
• Pedras Sequeiros
• Armada Candeeiros
• Festival Internacional de Jardins
• Jardins Temáticos
• Miradouros de Santo Ovídeo e Santa Maria Madalena
• Capela Românica de Santo Abdão (Correlhã)
• Capela Românica do Espirito Santo (Moreira do Lima)
• Santuário do Senhor Socorro da Labruja (Baroque monument)
• Aldeias de Portugal: Cabração

"ACTIVE ROUTE"
• Ecovia Ponte de Lima – Lagoas de Bertiandos
• Clube Náutico – Canoagem no Rio Lima
• Centro Equestre do Vale do Lima
• Trilho da Mesa dos 4 Abades
For accomodation and Route bookings, please contact:
CENTER – Central Nacional do Turismo no Espaço Rural
Tel: +351 258 931750 ou info@center.pt
www.center.pt I www.solaresdeportugal.pt
www.casasnocampo.net I www.aldeiasdeportugal.pt